Meet Dr. Charles R. Drew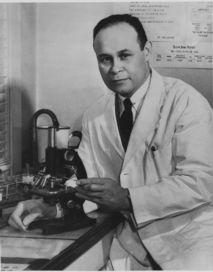 Charles Drew Science Scholars program is named after Dr. Charles R. Drew, an eminent black physician and researcher, a pioneer in blood plasma preservation and was a major contributor to the advancement of blood banking in the US.
In his 1940 dissertation, "Banked Blood," Drew detailed his discovery that separating plasma from whole blood greatly extended the possible storage time before use, resulting in the mass distribution of plasma units to WWII victims. In 1941, he was appointed as the director of the American Red Cross plasma storage program for the U.S. armed forces. However, he took issue with a military directive to segregate supplies for blacks and whites and resigned in less than a year.
Drew then returned to his post as head of Howard University's surgery department and for the next nine years trained physicians, residents, and medical students. He became the first black to be appointed an examiner by the American Board of Surgery. Drew died in 1950 at the age of 45 from injuries sustained in an automobile accident, leaving behind a legacy of commitment to academic excellence that is at the heart of the Charles Drew Science Scholars.
"There must always be the continuing struggle to make the increasing knowledge of the world bear fruit in increased understanding and the production of human happiness."
-Dr. Charles Drew