Summer Experience Spotlight: Emily Washington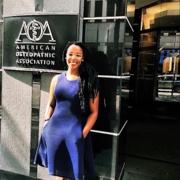 We would like to introduce our summer scholar spotlight, Emily Washington!
Emily Washington is a senior with a major in Human Biology. Her ultimate career goal is to be a journalist, physician and health educator focusing on preventive medicine and global outreach health specialty care. During her summer, she had the opportunity of working with the American Osteopathic Association to plan and coordinate a symposium with the CEO, Adrienne White-Faines, for the OMED 2018 Conference.
The OMED 2018 Conference is an annual osteopathic medical conference that brings thousands of DO physicians, residents and students together to champion the profession, learn and network. Emily worked to establish a symposium that addresses the diversity crisis in medicine. Numbers for men of color applying for and attending medical school are increasing year by year, but the numbers are drastically lower compared to the total number of applicants and matriculants. The symposium purpose is to implement and share an action plan to encourage increasing diversity within the medical field. It is geared to educate physicians, executives, and student leaders of color on how they can help resolve this crisis through mentorship and representation. Prospectively, we hope this acts as a gateway to future events that target other issues in medicine that stem from gender or racial inequality.
Message from Emily:
"Never limit what you can accomplish. If it hasn't been done before, be the first and grab the opportunities that come your way fearlessly. I thank God for answering my prayers, guiding my character, and opening doors. There is great power in prayer, and it's God who makes it happen and strengthens me to be at my full potential. I also thank the Drew Scholars program for sharing this opportunity with me. If it weren't for Drew, I would've not known about this opportunity nor would I have applied."
Keep up the outstanding work, Emily!