Summer Experience Spotlight: Marcel Coleman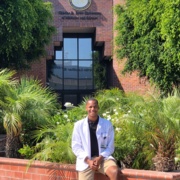 It is with great excitement, to introduce our Summer Scholar Spotlight, Marcel Coleman.
Marcel Coleman is a sophomore focusing on a major in Biomedical Laboratory Diagnostics (BLD) with an emphasis on pre-medical tracking. Marcel is interested in pursuing a Master of Healthcare Administration and becoming a MD physician making an impact through serving in underserved communities. He enriched his summer experience by participating in the University of California Los Angles/ Charles R. Drew University School of Nursing Summer Health Professions Education Program a.k.a UCLA/CDU SHPEP, which is committed to developing future leaders that will change the face of medicine and dentistry as well improve health care delivery, policy and research in underserved communities. He explored cardiovascular disease research within the Latino community in South Central LA with fellow interns and dived into problem based physiology and anatomy courses with simulator manikins (see image below). Each week during the 6 week program, his team received an educational challenge to assess and diagnose patients using the information from their lecture and outside resources (Pubmed, NCBI, etc). In addition, Marcel is a member of the MSU Honors College.
Congrats on your new experiences! Great job!
Message from Marcel: "Success is easier when you stop believing in limitations. Thank you Catinlia Bartlett for helping with my personal statement for UCLA/CDU SHPEP. Also, a special thank you to Sharon Griffin for writing a strong letter of recommendation!"