Spartans Did... Drew Scholars Summer Expo 2015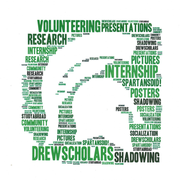 We asked the big questions. We gained perspective. Now is your chance to see how Drew Scholars pushed the boundaries and made the most from our summer. Whether it was a study abroad, volunteer work, internship, research or shadowing, Drew Scholars were involved throughout the world. Join both the MSU and Drew Scholars community to see what kept us busy and helped put us ahead of the game through an evening of poster presentations, picture slideshows, and socialization.
Light refreshments will be served.
This is a business casual event.
**Mandatory attendance for students in NSC 100 and NSC 200**