September 2017 Spotlight: Incoming Freshman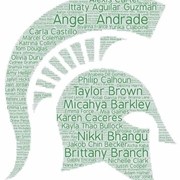 Welcome, New Drew Scholars!
The incoming class of Drew Scholars is kicking off to a great start of their time here at Michigan State University! There are 89 exceptional students coming from New Hampshire all the way to California. The new scholars have majors reaching from astrophysics to neuroscience and everything in between. We are beyond proud to recognize the following as Drew Scholars!
Angel Andrade Nasama Winters
Ittaty Aguilar-Guzman Antonia Williams
Micahya Barkley Andrea Williams
Nikki Bhangu Maya Watts
Brittany Branch Allante Searcy
Taylor Brown Donovan Smith
Kayla-Thao Bullock Heshima Sprague
Karen Caceres Edgerrin Washington
Philip Calhoun Alexis Carter
Carla Castillo Nichelle Clark
Yurika Claboine Destiny Williams
Marcel Coleman Anabela Dill Gomes
Justin Cooper Rashaun Sanders
Tom Douglas Olivia Duru
Gabby Encinas Mia Gaines
Biyanna France Kiara Stevenson
Xitlali Garcia-Pilar Brooke Garland
Cydnee Graham Aaron Grobstein
Adam Hafner Destiny Harris
Shamya Harris Amy Heller
Jailyn Hicks Destiny Hunnicutt
Isabelle Johns Kiara Johnson
Maleena Johnson Victor Jones
Jalin Jordan Aicha Kaba
Kwame Kannatey-asibu Leah Knox
Nana Krah Brianna Lane
Kendyll Lavant Brian Lee
Emma Lee Kelsey Lee
Jarred Lenoir Quintin Lohman
Gisella Lorenzo Amayz Smith
Tracy Markray Jan Smith
Lavell Massey Kenneth Matthew
Abdoul Mbengue Jaelyn McClain
Gabrielle McDonald Sylvester McIntosh
Keina Megginson Melina Moody
Jack Moosekian Melissa Moralez
Turhan Morris Michael Neuhaus
Dionna Murphy Michael Neuhaus
Morgan Nicholls Dmario Northington
Jada Payne Drew Pena
John Ray Cassie Robbins-Castillo
Roya R Joe Rockelein
Alicia Sanchez
Nathan Seamans
Ivrie Simpson