Drew Scholars Salutes the Class of 2015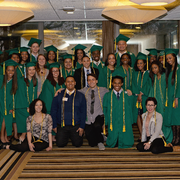 The 2015 Senior Recognition Dinner was held on Thursday, April 30 at the Kellogg Center. The students happily shared an evening together, connecting over shared experiences and excited to move forward into the next chapter of their lives. Each student was presented with a certificate and honors cords in recognition of their participation in the Drew Scholars program.
In attendance for the students' rite of passage was Dr. Mark Voit, Associate Dean of Undergraduate Studies and Dr. Charles Elzinga, Lyman Briggs Associate Professor of Biology in addition to the Drew Scholars Staff. To make the evening more memorable, Drew alumni were integral in the event. Bryan Buckley ('10) delivered the keynote while Dr. Eric Ayers ('85) was recognized for his continuous support of Drew Scholars and the example he sets as a practicing physician.
For a complete list of 2015 graduates, click here.