Drew Scholars Honors 2016 Graduates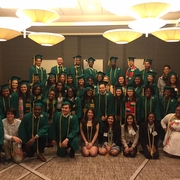 The Drew Scohlars 2016 Senior Recognitiona & Awards dinner was held at the Kellogg Hotel & Conference Center on Thursday, April 28. Over 40 graduate were in attendance for an evening of fellowship, nostalgia, and looking forward. Drew Scholars was joined by College of Natural Science administrators and program alumni.
Drew Scholars alumnus Fletcher Daniels (BA '09, MAT '14) gave the keynote address, urging students to look for and accept the challenges that come along with adult life. He also warned that if you aren't being challenged, you aren't growing. Newly minted Dr. Jason McGhee also attended the dinner and gave a touching impromptu speech about his time here and the things that keep him inspired, including one of the evening's graduates.
The evening culminated in the annual "family" photo and many congratulations. Here's to you, Michigan State University Class of 2016!