Drew Homecoming Tailgate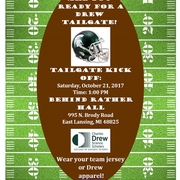 ARE YOU READY FOR A DREW SCHOLARS TAILGATE?
Wear your team jersey or Drew apparel and come make memories around the grill! We can't wait to see all of our alumni, faculty, staff and scholars. The tailgate will take place behind Rather Hall in the Brody Neighborhood! See you there!
RSVP through October 19th by emailing NatSci.DrewScholars@msu.edu
Date: October 21, 2017
Starting Time: 1pm
Location: Rather Hall, 995 N Brody Rd, East Lansing, MI 48825