Dr. Caldwell Goes to China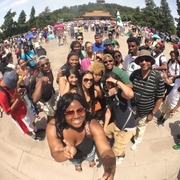 On the Culture, Science, Sustainability, and Entrepreneurship in China Study Abroad Program, our own Dr. Jerry Caldwell and Dr. Leo Savala (CANR) accompanied 34 MSU students, including 11 Drew Scholars, from Michigan to Chengdu, China with later travels to Beijing, China. While abroad on the three-week trip, the students focused on contemporary issues in environmental, geological, biological, or human health-related sciences yet managed to make time for touristy attractions. Between Kung Fu classes, climbing The Great Wall of China, visiting The Temple of Heaven, hiking Taoist mountain, touring the Chengdu irrigation system and many other sites, the student testimonies were enough to make all of us still in East Lansing wish we were there. Drew Scholars accompanying Dr. Calwell were Legacy Cannon, Eusebio Chavez, Antoine Douglas, Eric Glass, Brittany Lane, Harrison Morgan, Rebekka Pace, Patricia Pointer, Joi Thompson, Austin Whitted, and Aarean Wooten.
As the Drew Scholars reflected on their trips, Rebekka Pace and Aarean Wooten stated respectively, "This trip has truly enlightened me" and "I am returning a completely changed person. I have been so humbled by my experience in China".