Dean's Research Scholar 2016-17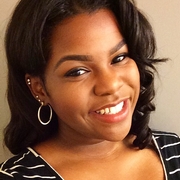 Once again, the Dean's Research Scholars have been announced by the College of Natural Science and another Drew Scholar is among the group. Dominique Garrison, a microbiology major, was chosen to represent the college locally and nationally. Dominique is also a MARC Fellow and plans to puruse a doctoral degree in the biomedical sciences after graduating from MSU. Her selection was based on her combined academic performance and previous participation in undergradaute reserach. As part of a select group of undergraduate students, Dominique will travel across the country engaging with MSU alumni and other friends of the college sharing her academic, personal, and professional experiences.
We congratulate Dominique and look forward to her strong representation of Natural Science and Drew Scholars!