Congratulations to Shelbie Shelder, Udall Scholarship Recipient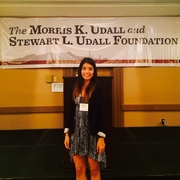 Shelbie Shelder ('16), a junior Honors student majoring in nutritional sciences has earned the Udall Scholarship. The Udall Foundation awarded 80 scholarships nationwide, with Shelbie being the 11th MSU student to earn the scholarship. Extremely thankful and honored for the scholarship, Shelbie is very active in her major and American Indian community and consistently works toward "improving the wellbeing of American Indian people in the United States."
Shelbie is a model student who we are proud to have as a Drew Scholar. In keeping with her dedicated work for the Native American community, she is currently in Boston, MA participating in the Four Directions Summer Research Program which is a collaborative effort between Harvard University and Brigham an Women's Hospital. Keep up the wonderful work.
To read more about Shelbie's award, click here.