Ariel Robbins Receives National Advising Award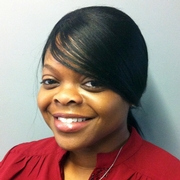 Ariel Robbins, academic advisor in the MSU College of Natural Science and for the Charles Drew Science Scholars program, has been selected for the National Academic Advising Association (NACADA) Great Lakes Region 5 Excellence in Advising Award.
The NACADA award recognizes individuals whose primary role at the institution is the direct delivery of advising services to students.
"Ariel has a tremendously positive influence and impact on our students' college experience in advising and helping them successfully navigate their education at MSU," said Jerry Caldwell, Drew Science Scholars Program director. "We very happy she is being recognized for her outstanding work."
"It is a great honor to receive the NACADA Excellence in Advising Award, and I'm incredibly grateful to Dr. Caldwell and all of my supporters for their work and words on my behalf," Robbins said. "I really love guiding students throughout their undergraduate experience. This award affirms my personal purpose and professional mission to help young people grow, excel and reach their goals."
Robbins will receive her award at the NACADA Great Lakes Region 5 Conference, which takes place March 13-15 in Detroit, Mich.
For a complete list of all of the NACADA Region 5 award winners, visit https://www.nacada.ksu.edu/Community/Regions/Region-5/Award-Recipients.aspx.
Banner image: The Charles Drew Science Scholars program takes a wholistic approach to guiding students, providing academic advising and coaching, along with social and emotional support in the sciences at MSU.