April 2017 Student Spotlight: Brittany N. Lane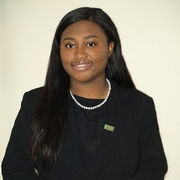 We would like to introduce our student spotlight for the month of April, Brittany N. Lane!
Brittany is a senior with a major in Human Development and Family Studies/Premed and a minor in Pharmacology and Toxicology. Her ultimate career goal is to be a Dermatologist. She studied Abroad in Chengdu and Beijing, China, at Sichuan University, participated in SMDEP (now known as SHPEP) at Yale University School of Medicine and was a research assistant with the Department of HDFS Ph.D. Candidates focusing on health, conditions and coping strategies for minority women who have chronic diseases.She is currently involved in three organizations; Dean Student Advisory Council (DSAC), GEAR UP Program and Vice President of Minority Association for Premedical Students (MAPS). In addition, she's participated as a Multicultural Apprenticeship summer counselor with the College of Agriculture and Natural Resources, and a teaching assistant for Lansing Public Schools.
Brittany's message:
Drew has and continually provides me with the emotional and motivational support that I need to continue on my educational and personal journey at Michigan State University. Before Drew, I was struggling personally and academically, but becoming a Drew Scholar made MSU feel small enough to where I started to call it home. The Charles Drew Science Scholars will continually be the best experience that I have made at Michigan State. I am forever grateful for the impact that the Charles Drew Science Scholars program has had on my life and its assistance in preparing me for the next level in my life.
Congratulations Brittany! Keep up the good work!!