April 2017 Alumni Spotlight: Dom Edwards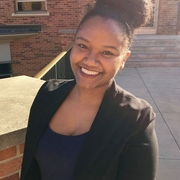 We would like to introduce our Alumni Spotlight for the month of April, Dom Edwards.
Drew alum, Dominique, graduated from MSU in 2014 in IDS Health and Society, with the Bioethics, Humanities, and Society specialization. As an undergraduate, she held positions as both Drew Office Assistant and TA for NSC 200. She has excelled in the Summer Medical and Dental Education Program (SMDEP) at Case Western Reserve University followed by being a research scholar with the Ronald E. McNair Scholars Program, and studying abroad in London, England with the Medical Ethics and Health Policy program. Dominique will be graduating with a Master's of Public Health student at the University of Michigan in 2017. She is a Research Assistant with a health behavior intervention study called Take Heart, which assists Detroit adults to better manage their heart disease or related conditions. Starting her graduate career, Dominique helped to plan the UMich School of Public Health's (SPH) Annual Minority Health Conference titled: "Public Health Implications of Mass Incarceration" and is this year's conference committee chair. Dominique was recently accepted into the doctoral program at Univertsity of Michigan SPH, in the Department of Health Behavior and Health Education.
Dominique's advice to students is... "place yourself in the view of people who can give you what you need and help you get to where you want to go. This may look different for every circumstance, but for me, this took place in the form of becoming an office assistant for my department, giving me access the chair of my department, who then wanted me to join her research team, which ultimately led to her becoming my advisor for my upcoming doctoral studies. There are people literally willing to take you under their wing, give you right guidance, and go to bat for you and your development. This is not to say that every person who's work you admire and appreciate will do this, some people may shoot you down. However, you have to keep knocking on different doors and find the right door of the one who's willing to help guide you"
Congratulations Dom Edwards and keep making us proud!!